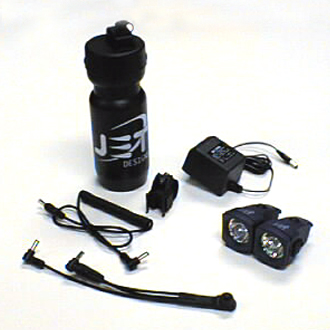 LIGHT WEIGHT DESIGN
JET Lites 2 oz.(70g) lite module is 50% - 60% lighter than any other light. Two modules hooked together will form a 4 oz.(140g) feathery light 32W Dual Beam system. Its so light you won't even know that you are wearing it.

LIGHT WEIGHT BATTERIES WITH TWICE THE POWER
JET Designs light weight and compact NiMH Battery packs delivery 13.2V and a 2.2 hour burn time (@12W). The battery pack weighs only 1 lb. 8 oz (680g). A 13V system will give you twice the viewable light as compared to a 6V lighting system. Its not how many WATTS but, how many VOLTS! 13V and NiMH technology are the essential elements in performance lighting. Anything less is a fancy flashlight.

MODULAR DESIGN
JET Lites, the innovator in creating the modular design concept, makes it possible for the first time light buyer get the best single beam lighting system on the market. As your need and demand for more lighting grows so can your JET Designs lighting system. The single beam system can be upgraded at any time into a 32W Dual beam system. You can also add an Optional Fuel gauge, creating the ultimate in high performance lighting.

UNIVERSAL MOUNTING BRACKET
Our patented mounting bracket will hold a Single light module centered and the same mounting bracket will hold Two light modules centered. The mounting brackets have a full range of adjustable settings along with an easy on/off release mechanism. Handle bar mounted lights can be individually aimed by using an optional second mounting bracket.
You can switch back and forth between single and dual beam systems depending on your sport lighting requirements.

NICKEL METAL HYDRIDE BATTERIES
JET's NEW longer running NiMH battery pack was specifically designed for us with SPP technology to meet the rigorous needs of high our performance lighting system. This robust battery pack added 20% more run time over our NiCD based system and still maintained the same ultra small light weight form factor.
The custom designed Sintered Positive Plate (SPP) technology was optimized for High Rate Discharge and Abusive Overcharge conditions. JET's exclusive SPP technology has been exposed to months of continuos overcharge abuse with nominal battery performance degradation. No other NiMH or NiCD chemistry can withstand this kind of abuse.
JET's SPP technology goes beyond so called smart charging.

MODULAR FUEL GAUGE
Innovation and technology are the cornerstones for all of JET's products. Our computerized modular fuel gauge is an industry first. Get accurate LED readouts as to the charge status of your battery. Flashing LEDS will give you a visual indicator when your battery is full and each time 20% of the available charge is used. Readouts can also be had by pushing a button. A fuel gauge can be added to any of JET's battery packs.

THE POWER EQUATIONS
VOLTS X AMPS X .91%= WHrs
Watt Hrs/ Bulb WATT = (RUN TIME)
Using the above power equations you can determine exactly how much run time any lighting system will provide with a given Watt bulb.
No manufacturers inflated specifications.
Example equations:
Rated battery 2200Mah=2.2amph
13.2V X 2.2 Ah X .91% = 26.4 Watt Hrs
26.4 WHrs / 12W = 2.2 hrs.
Technical Specification
S =Single beam Light D= Dual Beam Lights
*Special Order Lamp
| | | | | | | |
| --- | --- | --- | --- | --- | --- | --- |
| Light Wattage | Beam Angle | Weight of Light | Burn time Single Battery | Burn time Dual Battery | Single Battery Pack Wt. | Dual Battery Pack Wt. |
| S* 7.5W | 10 | 2 oz | 3.6 hrs | 7.2 hrs | 1 lb 8oz | 3 lbs |
| S 12W | 10 | 2 oz | 2.2 hrs | 4.4 hrs | 1 lb 8oz | 3 lbs |
| S 20W | 18 | 2 oz | 1.3 hrs | 2.6 hrs | 1 lb 8oz | 3 lbs |
| D 32W | 1-10, 1-18 | 2 oz | 0.8 hrs | 1.6 hrs | 1 lb 8oz | 3 lbs |