---



This is my new mountain bike. It's a 1999 K2 OzM. It replaces my 1990 Nishiki Ariel... a mass-market version of Richard Cunningham's Valkyrie-X frame design patterned after his more expensive Mantis XCR. I had been upgrading and evolving it over the past ten years. It remained a hardtail and hardnose though because I was reluctant to spend the money on suspension for a frame not initially designed for a suspension fork. It was and still is quite a capable bike. It came stock with all DeoreDX componentry and in 1993, I upgraded the rear derrailleur and shift/brake levers to DeoreXT. It now belongs to my brother. Here's an old picture of me and my Ariel... I apologise for it being kind of dark.

Almost every major structural component on this bike is made of carbon fibre. The main frame is a combination monocoque/subframe construction which consists of two carbon fibre shells that sandwich a carbon fibre substructure (backbone). Aluminum is molded into places where it matters such as shock brackets, head tube housing and bottom bracket housing. The rear swingarm as well as the fork are also carbon fibre with aluminum dropouts (replaceable rear derrailleur hanger) and pivot points also molded in. Handlebars and seat post are also carbon fibre courtesy of Easton. Additionally, Easton was subcontracted to fabricate the swingarm and fork legs. The bike is not the lightest full suspension design you can find but it certainly offers a pretty high strength-to-weight ratio.

The componentry is a mix of some of the trickest parts I've ever ridden. Most of the drivetrain is Shimano 9-speed XTR with Race Face supplying the crankset and bottom bracket (titanium). The headset is also Race Face (Thermo SP). There's also quite a smattering of titanium strewn about for things like spindles, shock springs, and various nuts and bolts. The upper half of the rear cassette consists of titanium sprockets. Shifting is incredibly smooth. I'm really suprised at how much of an improvement over my old bike's DX/XT mix which I had thought was pretty smooth itself. The Race Face stuff is very stiff. I notice no flex at all when hammering. The one thing that really caught me by suprise on these newer bikes is the power of the brakes. The DX cantilevers on my old bike were by no means wimpy but the Avid V-brakes are extremely powerful. I'll need to relearn how to modulate them better. I've had the rear lock up and slide out from under me during "light braking" around a slick corner.

I decided to take the technological plunge by going full suspension. Not only that, but I've decided to give electronics a try. Both shocks (rear shock was upgraded from stock K2/Noleen NR-2) on this bike are K2/Noleen NR-5 Smart Shocks. They utilise sensors and logics to drive piezoelectric valves which in turn are used to govern the damping qualities of the shock. Each shock houses a standard 9V battery. I use NiMH rechargables (I carry spares too) which should give me somewhere around 20 hours of runtime per charge. There's a power management feature which also has a sleep mode to save battery life. Should power fail, the shocks revert to a baseline damping quality similar to that of the NR-2 from which they were originally derived. The system has three settings. One is full auto, another is for a soft-cushier ride but doesn't offer as much damping, and the third is for locking out the system to give a very firm ride with little compliance. The last setting is of course used primarily for very steep climbs to negate loss of power to the suspension.

Another gee-whiz feature I decided to exploit was the FlightDeck compatibility of the XTR shifters. The FlightDeck is Shimano's cycle computer that integrates with the gear shifters and displays gear indicators (replacing the mechanical Optical Gear Display), gear ratios and calculates cadence without the need for a separate sensor in the crank. It of course also has features one would normally expect in any other high-end computer such as speedometer, lap functions, odometer, stopwatch, clock, and trip functions. The only thing lacking between it and my old Cateye CC-8000 ATC I had on my last bike is the waterproof capability and hardened casing found in the ATC. This is not to say the unit is in any way flimsy. As a matter of fact, the sensor wires look to be of the same thickness as the ones for the ATC and although the FlightDeck's casing does not look armoured like the ATC, it does look plenty sturdy. I guess time will tell if it can withstand the abuse I'll put it through. One unique feature to the FlightDeck is the remote handlebar controls. These are much like the handlebar mounted controls found on high-end bicycle lighting systems and communicates to the computer via the docking harness. This allows you to control the computer with just a flick of your right thumb so you don't have to take your hands off the grip. As a matter of fact, the computer has no controls mounted directly on the front of the unit. It does have redundant controls mounted on the back of the casing however so you can operate it outside the harness. The only features I can think to add is a backlit display (probably would drain batteries too quickly though... so maybe also make it rechargable) and wireless sensor capability. I have the wireless FlightDeck sensor mounted on my roadbike and am tempted to buy a wireless setup for the OzM but I've also heard there's some interference problems with the sensor signals caused by the piezoelectrics of the SmartShocks.

So how does it ride? Suspension performance was impressive and the frame is incredibly stiff. Although the bike and especially the fork looks like it belongs on a suicidal bombing downhill course, it's actually more at home on fast cross country, technical singletrack and hill climbing. For pure downhilling, it's only a mediocre performer since the shocks really don't have that much travel. I leave the shock in the fully automatic position most of the time and it functions pretty much as advertised. It soaks up the medium and larger hits nicely while the properties of the carbon fibre causes a lot more of the smaller bumps/vibrations to get absorbed instead of passing through to the rider by the frame such as on an aluminum design. All in all, the ride was comfortable and I believe it to be a good fit for the type of riding I do which is primarily cross country, singletrack and fireroads.

The only real hassle I've encountered with this bike was when I went to buy it. It turns out that K2 only produced it in limited numbers and when I checked around at several stores who were listed as K2 authorized dealers, they either knew nothing about the model or couldn't find any availability information. After hunting all over the area and even resorting to some of the bigger sporting goods and outdoor sports stores such as REI, I paid a visit to the local bike shop of Bothell Ski and Bike (where I should have gone to first). And they were extremely helpful in locating one. If you're looking for a rare or hard to find bike or any high-end bike for that matter, I'd certainly recommend contacting these folks. They also do a lot of online sales.

The dealer at the LBS called up the K2 regional sales rep at home and managed to track down the last remaining medium sized OzM. Actually there were only five of the other size left. However, the sales rep indicated that for some reason the bike was not in the K2 inventory database. As we later found out the next day, a bike shop in North Carolina had purchased all the remaining OzMs just as my dealer was attempting to close the order. The bikes were already on a truck headed across the country. My dealer pulled some strings and managed to find out the name of the bike shop and its owner. Apparently, they knew each other so a deal was made and the owner of the shop in NC agreed to sell the bike to my LBS. However, that meant that the bike first needed to arrive in NC (one week) in order to get turned around and shipped back to my LBS (another week). Additionally, I would have to wait as my upgrades (rear shock and computer) were delivered and installed which would take another half a week. Enduring the wait was grueling... especially since my friend was gloating over just having gotten his new Cannondale Jeckyl (with a Lefty fork). And to make matters worse, I had also decided to buy the wife a new bike so she could go riding with me. Everyone had their new bike but me. I felt like the left-out kid after Christmas. |8^) In the end, all the wait was worth it because this is one very sweet bike... although if you ask my wife, you might get a different opinion. She thinks my bike looks ugly. |8^)




---

SPECIFICATIONS

SIZES
Med
FRAME (stock)
K2 Thermoplastic Carbon Fiber with K2/Noleen NR-2, 4.7" travel, Carbon swingarm
Upgrade
Replaced NR-2 with K2/Noleen NR-5 Smart Shock, 4.7" travel
FORK
Noleen Cross-Link Pro Carbon S with K2/Noleen NR-5 Smart Shock, 3" travel
BOTTOM BRACKET
Race Face Taperlock Ti, 113mm
CRANKS
Race Face Turbine LP, 44/32/22, black
FRONT DERRAILLEUR
Shimano XTR FD-M952, 31.8mm, down route
REAR DERRAILLEUR
Shimano XTR RD-M952-GS, 9sp
SHIFTERS
Shimano XTR ST-M952 RapidFire SL STI combined shift and brake lever set, 9sp
Upgrade
Replaced OGD with FlightDeck integration sensors
CHAIN
Shimano XTR CN-7700, 9sp
Upgrade
Replaced with Wippermann conneX 908 because of breakage
BRAKES
Avid Arch Rival 50
BRAKE LEVERS
Shimano XTR ST-M952 RapidFire SL STI combined shift and brake lever set
FRONT HUB
Shimano XTR HB-M950, 32h
REAR HUB
Shimano XTR FH-M950, 32h, 9sp
CASSETTE
Shimano XTR CS-M953, 12-34, 9sp
RIMS
Sun OČ XC black anodised with ABT and eyelets
TIRES
Panaracer Fire XC Pro, 26x2.1", 127TPI, Kevlar
TUBES
WTB Lite PV tubes
SPOKES
DT Comp butted 14/15g black SS w/silver alloy nipples
HEADSET
Race Face Thermo SP, black alloy cartridge
HANDLEBARS
Easton CT2 Carbon Fiber XC, 125g
STEM
Titec "Big Al" butted TIG alloy, 120mm, 0 deg rise, polished
Upgrade
Replaced with Race Face SYStem (CNC 6061-T6, 120mm, +5 deg rise, gun metal grey) for better technical ride positioning
GRIPS
WTB DCTG black with grey grip
Upgrade
Replaced with Race Face Strafe Lock-On
BARENDS
Titec "Shorties" matte black powder coat
Upgrade
Replaced with Easton EC90 Bar Ends (carbon fibre)
PEDALS
K2 Mag-T Clipless
Upgrade
Replaced with Time ATAC Carbon w/Stan's Titanium Pedal Kit
SADDLE
Selle Italia Flite Vanadium
Upgrade
Replaced with Selle Italia Genuine-Gel Flite Titanium
SEAT POST
Easton CT2 Carbon Fiber, 27.2, 350mm (untrimmed), 180g
SEAT BINDER
Alloy 31.8mm, black
Upgrade
Normally swapped to Salsa Flip Lock QR
COLOR
Natural Carbon
EXTRAS (stock)
Titanium Rear Spring
Aftermarket
Topeak Einstein Master Blaster mini-pump (usually carried in hydration pack), Topeak Extra Large Expando Wedge (mounted only for casual rides), Topeak QR Beam Rack, Topeak Super Trunk Bag DX (rack and trunk not normally mounted), JET Designs 32W (12W/20W) dual-beam handlebar mounted Jet Lites with Starfire IR remote (mounted only for night rides)
WEIGHT
26.25 lbs (stock)




---
Long Term Impressions and Recommendations
11 March, 2001
I've had this bike for about a year now and here's what I think about it so far...
A very cool ride. The Smart Shocks seem to work pretty well. This isn't a downhiller nor is it a true XC bike. It's a bit of the all-around. Its suspension comes up a little short on travel in some cases and it's a tad heavy but still manages to climb really well due to the stiffness of its carbon fibre frame. Everything moves very smoothly and there doesn't seem to be any lateral play in the suspension linkages. I am however rubbing my left leg on the rear brake cable-guide from time-to-time. It seems to stick out a bit too far for where the rear brake is mounted but it hasn't bothered me much.
I'd recommend this for anyone looking for the ultimate all-around trail bike. Stock and out-of-the-box, the bike is almost perfect. I'd recommend replacing the saddle. The Flite's profile's okay but it's just a little too hard. The prices were pretty steep when these bikes were introduced but they've come down quite a bit since the model has been discontinued. If you can still find it (kinda rare) and are willing to spend a few grand on a really sweet ride then you don't want to pass one of these up.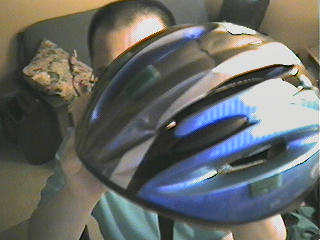 21 April, 2001
I took a nasty spill. While checking out some of the trails around the new house we're building, I discovered a particularly wicked section of blind singletracks. There were a lot of fallen trees on the trail. A lot of the logs were center-cut to allow passage. Carving in wide from a particularly fast downhill section, my front tyre nicked the edge of a log, completely halting the bike's forward motion but not mine. The front end stopped dead and the back of the bike reared up, launching me over the handlebars and headfirst into the base of a large tree. I heard the GT helmet crack. Aside from a nasty set of bruises and a sore neck, I was relatively unhurt. Once again, some smartly designed styrofoam saved my noggin. Although, the helmet didn't totally shatter, there was enough force to crack the microshell along the left middle rib section, denting the styrofoam and forming fractures in several places. Upon closer inspection, one can also find evidence of buckling around the outer microshell in other places.
While glad I wasn't seriously injured, on the other hand, the helmet was now useless and I was only 30 minutes into my ride. I went about quickly grooming myself of dirt, twigs, leaves and mud to walk the bike back towards the Jeep where I loaded it up and headed for the nearest bike shop. Following all those shining recommendations and succumbing to my fashion conscience, I decided to ignore the highway-robbery price of the high end mountain biking helmets and walked out of the shop with a new white/silver Giro E2. Returning to the trail, I discovered that it led to a vast network of interconnected sections that form part of the Beaver Lake Trail system... all accessable (literally) right from the doorstep of my soon-to-be new home.
26 May, 2001
"And with one sideplate destroyed, you are the weakest link... goodbye."
Today while on a ride with some friends who have just started taking up mountain biking, I snapped a sideplate on one of my links. I think it happened when I went cross-geared for a tad while trying to dump my front to the inner and kick my rear to the large cog in order to power my way through some sand. Anyways, the chain got sucked up and I lost momentum. Whether the broken sideplate caused the binding and resulting chainsuck or was the victim of the chainsuck because I was radically moving the chainline under load and vibration, I can't tell but for the rest of the ride, my shifting was horrible and the chain was skipping around.
I somehow got it into my head that the rear derailleur was misadjusted due to cable stretch or something and was playing with the barrel adjusters to no avail. It wasn't until we all got back to the parking lot that one of my friends noticed the sideplate of one link hanging loose and the other sideplate bent. I hope I didn't damage my drivetrain by riding what I estimate was about two hours with a faulty chain. I'm taking it into the LBS for a new chain and an inspection. BTW, the chain is a CN-7700 which is the same chain originally made for the Dura-Ace road group. This is also the standard spec chain for XTR which is what I have. I'm not sure if it being designed for a road group has anything to do with its durability but I've been reading a LOT of reviews about people snapping the 7700 in offroad situations.